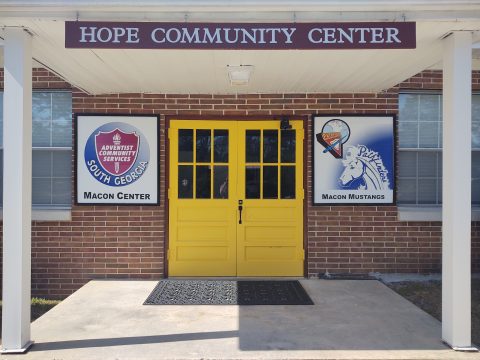 The Hope Community Center
                                                                      440 Wimbish Road
                                                                             Macon, GA
                                                 thehopecommunitycenter@gmail.com

The Hope Community Center serves as a hub for Adventist Community Services in Macon, GA.
Check out our blog to see us in action - Jesus in Action.
About Us
Our mission is to serve the community in Christ's name. We work with volunteers and Adventist Community Services/South Georgia to provide the best service possible to those in need regardless of age, handicap, religion, sexual preference, ethnicity, or country of origin. It is our desire to assist those in need to the greatest of our ability while setting an example that may encourage others to do the same.
 
Free Services Include:
 * Food Bags for Seniors: delivered monthly to senior citizens who are struggling to pay their monthly bills.
 * COVID Relief Drive-thru Food Pantry: Tuesdays from 4:00-6:00pm. See notice below.
 * Lifestyle Education Programs: wellness seminars on low-fat cooking, stress, diet, depression, etc.
 * Disaster Relief: food and clothing in the case of emergencies (MOU with FEMA and ARC).
 * Health Screenings: quarterly community health screenings.
 
Notice
In response to the COVID-19 pandemic and the resulting economic crisis, your local Adventist Community Services worked to expand our existing food pantry operation. Utilizing volunteers and food donations from our church and school community, we launched our drive-thru pantry on Tuesdays from 4-6pm at The Hope Community Center.
In order to serve as many families as possible and in the safest way possible, please note:
 * Wait in your car and a volunteer will bring the bag to your trunk or backseat
 * One bag per family
We have enjoyed serving you and look forward to continuing to do so as long as we can.
                                                              -  The Directors and Volunteers at Adventist Community Services